Top Gun Tennis Academy is a JUNIOR tennis academy in louisville, kentucky. THE TOP GUN TENNIS ACADEMY OFFERS TRAINING PROGRAMS FOR JUNIOR PLAYERS FROM AGES 4-18. OUR FACILITY BOASTS 10 INDOOR COURTS. NUMEROUS ALUMNI HAVE GONE ON TO COMPETE FOR COLLEGE TENNIS PROGRAMS ACROSS THE COUNTRY.
TGA SELECT SESSION V
February 22nd - April 11th
(off Spring Break week)
Monday's 4:00-6:00pm
Tuesday's 6:00-8:00pm
Thursday's 6:00-8:00pm
• Tournament Juniors UTR Level 4.0+
• Indoors at Springhurst
• Space is very limited.
• Drills, match play situations, fitness
PRICING:
6 week session:
One day per week - $185 member / $225 non-member
Two days per week - $345 member / $395 non-member
Three days per week - $455 member / $545 non-member
CONTACT PARKER GREGORY (859) 221-2379
TGA Beginner Orange Ball Clinic
Wednesday's 6:00-7:30pm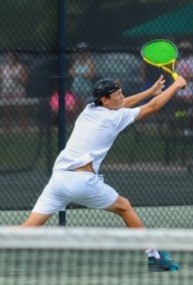 Current High School Team players can purchase a 10 clinic pass for Session V for $180.00. Use the pass for any clinics during Session V. Must be current High School Team player